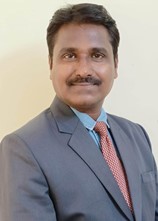 Dr. Sunder Rajdeep:
Head of the Department
Dr. Sunder Rajdeep has completed his Masters in Communication and Journalism from Dr. Babasaheb Ambedkar Marathawada University, Aurangabad. He has studied for doctoral thesis the title being "Impact of the Chandrapur Akashvani FM center on their beneficiaries". Joined academics after a brief stint in journalism in Nagpur. He teaches media laws, reporting & current affairs, research methodologies, and metropolitan journalism.
National level business communication trainer of the year 2015 Award, by Public Relations Council of India at New Delhi on March 13, 2015 awarded by hand of Union Tribal affairs Minister Mr. JualOram.
102nd Indian Science Congress, held at University of Mumbai on January 3-7, 2015. Member of the Organising Committee at the 8th VigyaanSancharakSammelan. Participated membership: 12681.
Media and Society in the Digital Age, Organised by the Dept. of Journalism and Mass Communication, University of Calicut on January 28-29, 2015. And presented a paper on Content analysis of Blogs : Transformation in Adulthood.
Participated and presented a research paper at the 24th AMIC Conference, Dubai (UAE), June10-13, 2015. Research Paper title: Social Media Networks among Adult Deaf Population and Demographic Outcomes.
Participated in TechNext India 2014-15, the Annual Convention of the Computer Society of India, on 31st January – 1St February 2015, at IIT Bombay.
As a Research Project Coordinator for UNICEF Project, organized and participated in a 'two days Blogger's Workshop' in collaboration with the Department of Communication and Journalism and UNICEF, Mumbai held on 10th -11th March 2015.




Attended a Workshop on Communicating Science and Biosafety for Media Professionals on 21st and 22nd April 2015 held by Ministry of Environment, Forest and Climatic Change and Indian Institute of Mass Communication, New Delhi.




As a Research Project Coordinator for UNICEF Project, organized and participated in a 'two day National Level workshop on Development Communication' in collaboration with the Department of Communication and Journalism and UNICEF, Mumbai held on Sept. 10-11, 2015.




Organised a film screening and panel discussion on 40 yrs. of Sholey




Organised a film screening and panel discussionon 60 yrs birth anniversary of Smitapatil




Organised Eye& dental testing in association with Titan eye+
Curriculum Vitae