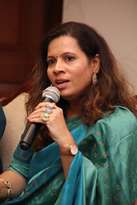 Daivata Patil: Assistant Professor
She teaches Advertising, Media Research and Management. Earlier worked in the field of Brand Communication, Marketing & Public Relations. She was earlier working as a faculty with the Department of Communication & Journalism, University of Pune. She has done corporate training in various corporates and management Institutes. She has completed her Masters in Communication & Journalism and Diploma in Journalism, University of Pune.

Published a research paper at Tamblov University, Russain Journal, Almanac of Advertising and Public Relation: Nov 2015




Published a chapter in book: Media and Human Rights, Publisher Dominant Publisher, New Delhi. Book is edited by John K Babu.




International Conference on Media and Communication, Himachal Pradesh University. Paper presented and chaired a session.




Organized and participated in a 'two day National Level workshop on Development Communication' in collaboration with the Department of Communication and Journalism

and UNICEF, Mumbai held on Sept. 10-11, 2015.